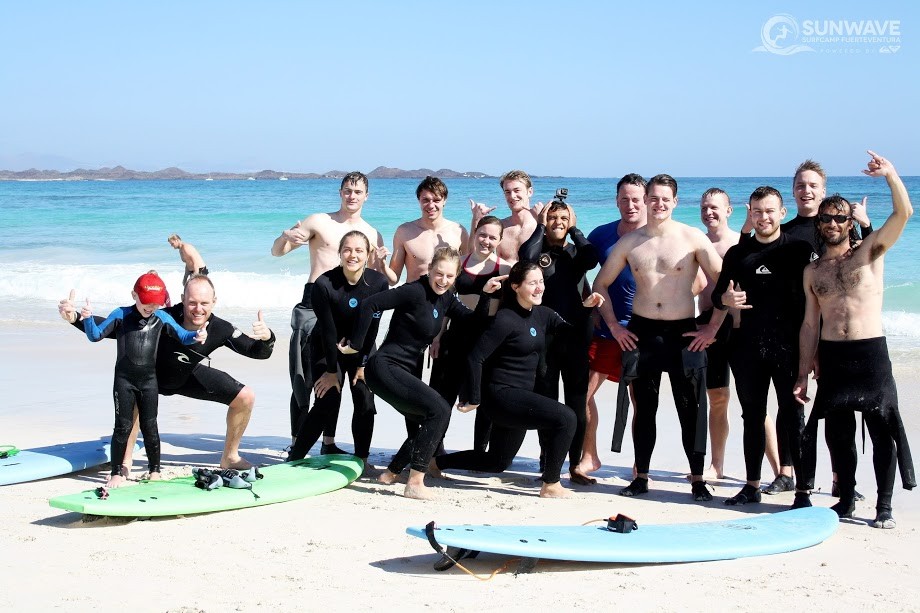 Lifeguard Week - 34 Denmark lifeguards call for one great week of surfing!
Lifeguard Week - 34 Denmark lifeguards call for one great week of surfing!

One of the best and weeks of the year here at Sunwave Surfcamp is always "Lifeguard Week"

Since 2009 we have the pleasure of hosting 30-40 lifeguards from Denmark and take them on an epic week of surfing around Fuerteventura.

Lifeguard Week kicks off with a "wetsuit party" where over a few cold beers each student is assigned a wetsuit, board, group and instructor depending on their experience.

The next day the Lifeguards hit the water with their selected group, our surf instructors are equipped with Go Pro's filming each student so we can analyse their techniques at the Beers, Burgers and Video Analysis night later in the week. Our onsite photographer is also on the beach all week snapping every smile, epic fails and awesome surfing taking place.

On the last day of surfingwe got the whole group together at 7am and heading down to Waikiki Beach for an amazing sunrise surf session, nothing beats being in the ocean on a surf board watching the sun rise over the horizon!

Throughout the week we also host extra special activities for our lifeguards, from Carver skateboard lessons which are directley focused towards your surfing techniques, a beach side BBQ hosted by the big boss who cooks the most incredible feast and a farwell party which includes the traditional rum and honey shots, the signing of the rescue tube and a good laugh over the weeks activities.

All in all, Lifeguard week is an incredibly fun week for all involved, check out the pictures below and feel free to download these and share them around!

Enjoy!
---
07.02.2017 /Categories:
fuerteventura
,
surf camps
,
surf course
,
surf images
,
wellness & fun
---