How to choose the right surfboard - intermediate surfers in Fuerteventura
When your surfing starts to improve, you are faced with an important question of using a shorter surfboard to start with the more radical maneuvers - what we all dream about.
It's not easy for an intermediate surfer to decide which board to use but, at the same time, it's really important to make the right decision, as it can completely change your way of progression. If you choose right, you will enjoy and improve fast, but if you take the wrong step, you will surely be stuck at the same level.
For that, if you join our intermediate surf lessons here in Fuerteventura, you will also learn about the right criteria to choose a surfboard, which will directly help you to improve your surfing skills. Here are the criteria you have to know about before taking any decision:
- Volume
- Length
- Ability of making the duck or go through the foamy waves
- Maneuverability
- Paddling ability of catching the waves
- Style and kind of waves we want to surf
All criteria are important, but the "Paddling ability of catching the waves" is considered the fundamental one. To make a correct self-assessment, you have to look at the wave-count, which it actually means how many waves we paddled (well caught and surfed) in one session:
Evaluation according to the evaluation criteria of the WSL.
Evaluation scale:
[8.0 - 10.0: Excellent]
If the surfboard and our level are not above 7 in the evaluation scale shown before, it doesn't make sense to change to a shorter board, since our wavecount will really go down. If that happens, we won't have enough practice frequency (= surfing a wave) to be really able to practice and improve. On the surf lessons that we offer for the intermediates surfers here in Fuerteventura, we take into account this criteria and evaluation scale to guide the surfer on the decision of choosing the right surfboard for the course, as we want to make sure that the surfboard and the level of the surfer are on sintony, on a balance state.
Most of us commit the mistake of changing to a shorter board before we should, just because it's easy to duckdive, to turn or because we think this board will be useful later when we surf even better. Every day, we can see a lot of intermediate surfers using short boards, and taking an average of 1-2 waves in one session. We have had many surfers that have come to Fuerteventura and have taken intermediate surf lessons with us, which are about to commit this big mistake. On the contrary, it's a good choice for the surfers who pick the right board, which allows them to catch more waves and have a higher frequency of repetition.
Taking into account all that, it's important to learn how to do the turtle. In case you cannot control your surfboard and you tend to let it go away when the foam comes, it's essential to practice the turtle not to be a danger for the others and for yourself. Otherwise, it's always a good option to go for smaller waves, which will allow you to practice and enjoy within your current level.
As well as, as we show to the surfers that join us in our intermediate surf lessons here in Fuerteventura, the turtle is not a matter of strength, but of using the correct technique, which can be learnt on a surfboard with a lot of volume. What's your choice? If you don't catch so many waves, what are you gonna practice and improve? Paddling and sitting on the board? Of course it's also a part of surfing, but in that way you will never progress on your real surfing skills.
In our Surf Camp in Fuerteventura, we focus on all that when we plan the surf lessons for intermediate surfers. For that, we have a wide range of boards of different sizes, volumes and shapes, which you can try. In the same way, we count on the best and qualified instructors that will advise you about which board to take during the lesson, always taking into account your current level.
It's really important to be aware of your current level and choose the right surfboard according to it. It's always a better decision to change to less volume in a progressive way, never taking big steps which will guide you to the wrong place. For that, it's better to have the chance to have access to a big variety of surfboards, as we offer in our Surf Camp in Fuerteventura, especially on the intermediate surf lessons.
And now, do you know how to pick the right surfboard to be able to
improve your surf skills?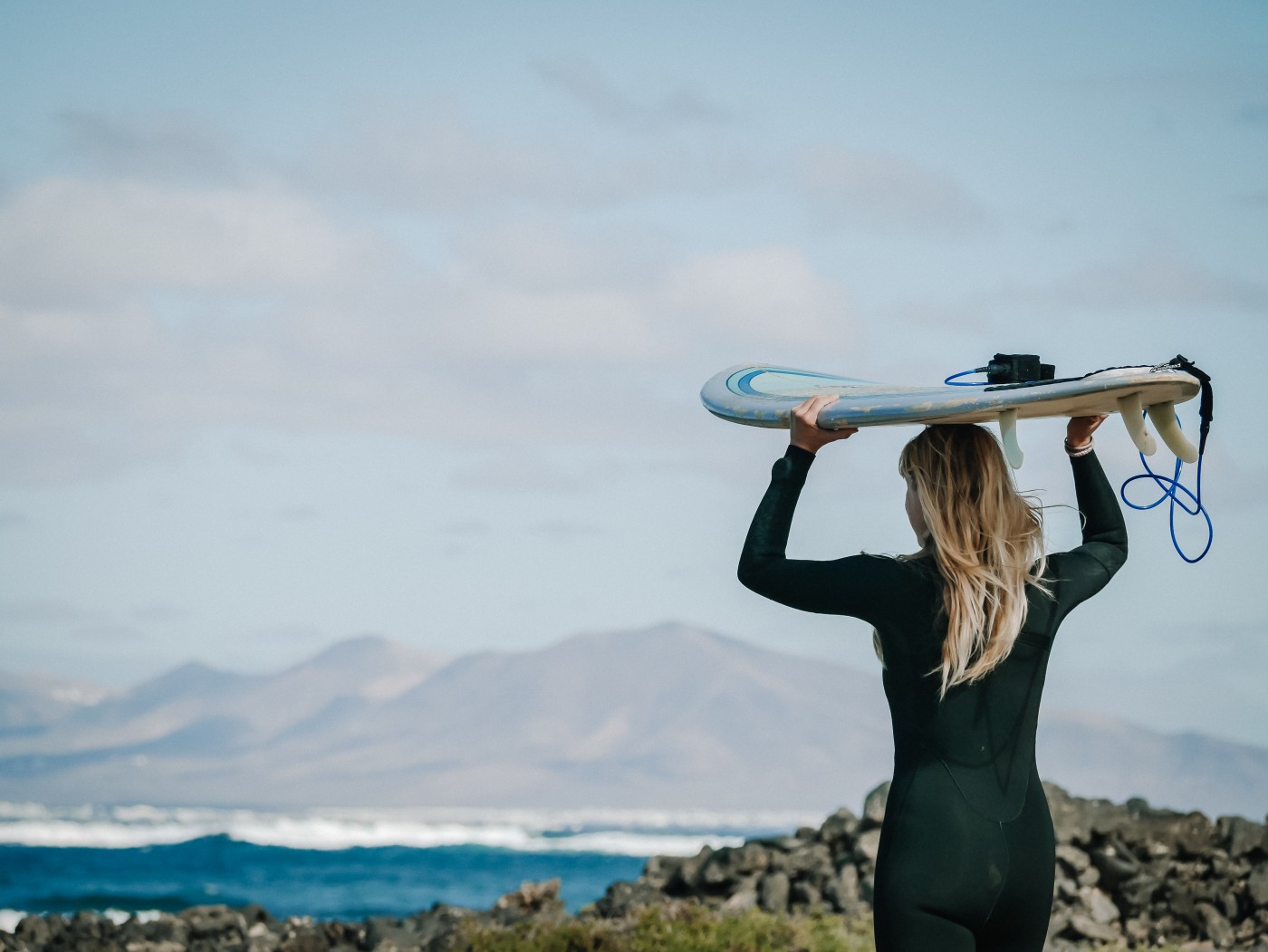 ---
13.02.2023 /Categories:
intermediate surf lessons fuerteventura
---